I am so excited to partner with my dear friend and team member to help raise money for the Relay For Life Kitsap event happening SOON!
I have been a part of Relay for Life for 7 years now, ever since losing my Grandma.  Here she is pictured with our now 12 year old.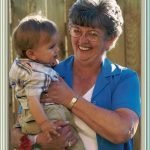 This is such a near and dear to me event!  Please join us in raising funds to help those still fighting
You can find out all of the details for the event HERE.   The event is May 31st from 6 pm to June 1st at 6 pm!
Christina and I have created two signs to help raise money for the ACS thru Relay for Life Kitsap.  All you have to do to help is purchase a sign!
To grab one of these signs just fill the form out below and we will send you an invoice.  Then just pick up at the Relay for Life Kitsap event!
Orders and payments will be cut off at 6 pm on May 30th, so don't delay!
If you have any questions please feel free to email me at Heather@HappilyHeather.com
And if you have a fundraiser of your own you'd like to host, please reach out to me!  I love to support our community!
Blessings,
Heather