This months Club Couture transfer is perfect for transitioning from Winter to Spring, which will be here before we know it.   My favorite part of Spring is the fresh greens growing through the cold, frost-covered ground.
Your Club Couture subscription comes with Storm, Guava, and Peachy Keen paste packets this month!  The subtle colors are a perfect match for this transfer!
Here are the instructions for your December 2020 Club Couture PDF.
Are you a current club member in December 2020?  We have a special promotion just for you!  The "A" All the Way promotion is perfect for getting all those retired A sized transfer in your Chalk Couture collection at a fabulous price of just $5 (us) per transfer!  (a savings of $4.99 per transfer!)  Make sure you're logging into your account at www.chalkcouture.com/HeatherWilliams and shop the deals while they last!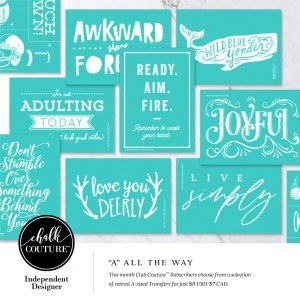 Happy Chalking,
Heather