We are well on our way into FALL and I love everything about it!  Opening the windows and enjoying the fresh air, to the smell of rain showers on warm asphalt.  The leaves are starting to change here and with that comes the promise of spring.
Our Club transfer for the month of October is a fresh reminder that You Are Beautiful!  With the chaos of the world around us, this is something that we need to hear and believe.  If you are a club member and received this transfer,  I urge you to create a masterpiece for yourself and one for a friend (or even a stranger).  Spread love through chalk, one creation at a time!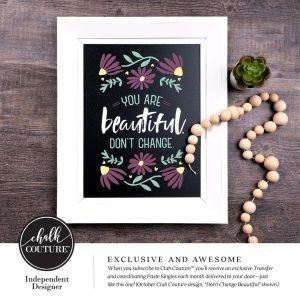 See the step by step   October 2020 PDF Instructions here.
Happy Chalking!
Heather