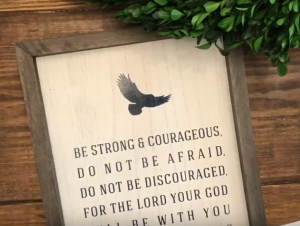 Be Courageous Sign
This was a project done by my adorable upline.  We have such an amazing team that is so willing to share!
Here are the supplies used:
Instructions
Fuzz the transfer by applying it to our fuzzing cloth (found here: Fuzzing Cloth) or a towel.  Lift it from the towel and repeat a few times.  This dulls the adhesive a little bit, allowing the transfer to lift easily off the surface without stretching the transfer or ruining the board.  When you wash the transfer the fuzz will come off.
Apply the transfer to the surface, make sure all of the negative space (screen area) is secure so that it does not bleed.
Apply a dab of paste and squeegee it over the screen area.  Remove excess paste, making sure there are no lines or globs left behind.
Remove transfer, pull from top to bottom or side to side.  Do NOT pull from a corner (this is stretch and distort the transfer).
Wash transfer in water.  I recommend our Board Erasers for quick clean up on our transfers! Found here: Board Erasers
Repeat with other transfers until finished.  If layering, make sure each layer is completely dried before applying another transfer and that the transfer is really well fuzzed!
Step back and admire your work!