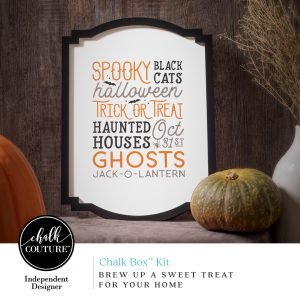 When black cats prowl and werewolves howl, you'll be ready with this
subway-art style Chalk Box™ kit.
This kit includes:
Couture Boutique™ Odette Frame (9″ x 12″),
Spirit of Halloween Transfer (B-sized), and
Paste Singles (Black Velvet, Storm, and
Orange Peel).
Additional supplies needed: Small Squeegee.
Learn how to make this project here:
Get yours while they are still available! These Halloween designs are going FAST!
Happy Chalking,
Heather